Why do business with Reliant Insurance Services?
As life progresses, we find ourselves looking to buy a house, weighing different insurance policies, and trying to build wealth. Those things are tough to do correctly when we do not have the proper information.
We created Reliant to educate and guide people through insurance and its financial impacts. The insurance your neighbor has may not be what is best for you. Getting to know you, understanding your needs, and empowering you with relevant information is what we want to do. Our business isn't to solely perform transactions. Reliant aims to build genuine relationships with people and provide insurance with wisdom and love.
-John Toomer
Founder of Reliant Insurance Services
Our Purpose
To love people through Financial Protection. We fulfill our purpose by doing business based on principles – such as honesty, humility, service, and care – in a way that is welcoming and loving to all. By creating a welcoming and caring environment, we hope to create a positive experience for anyone whom Reliant Insurance Services touches, no matter their background or belief system.
Our Values
Our Purpose is why we exist. Our Values drive how we go about that existence and represent who we are. Selling Insurance is just a vehicle to accomplish a much broader goal. We want to make Reliant Insurance Services about something more than profits, to work in a way that would please God. We do this by implementing the following in everything we do:
Love: Treats others like you want to be treated.
Servants Heart: Lead with what people need.
Excellence: Do great things with the gifts you've been given.
Courage: Learn, improve and boldly drive change that matters.
Fun: Work hard, laugh often.
Community Involvement
As a local insurance agency, we're part of the community and we understand the environment in which our neighbors and business associates live and work. We are confident that what we do—with insurance and in our communities—can change peoples' lives and their circumstances.
Independent Agent vs The Rest

Unlike a captive, or direct insurance company who only offers their own proprietary products, our agency is 100% independent of any one company. Many insurance consumers don't fully understand just how important that really is.
Here is a quick comparison of the differences between an independent agency like us, and the various other types of companies that are out there: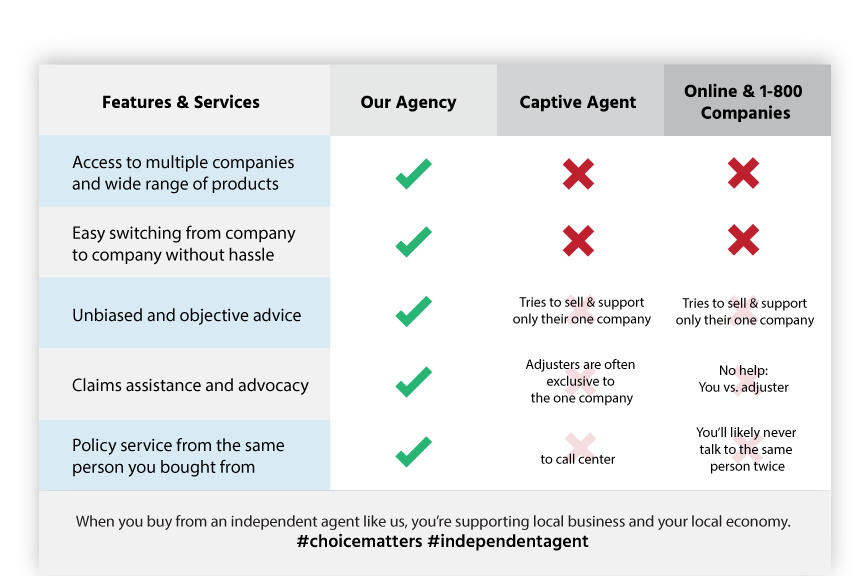 When it comes to something as important as insurance, it's imperative that you work with an agency who has an in-depth knowledge of multiple insurance products, companies, and guidelines — not just one.
At the end of the day, what separates one agent from another, is their ability to proactively service their policy holders, and their knowledge of the insurance industry, products, and different situations that may present themselves to their clients.
If you'd like to get started with a complimentary quote and/or policy review, we'd be happy to help you any way we can.
We appreciate the opportunity to help you, and look forward to servicing your insurance needs! Feel free to call us directly if you have more detailed questions.