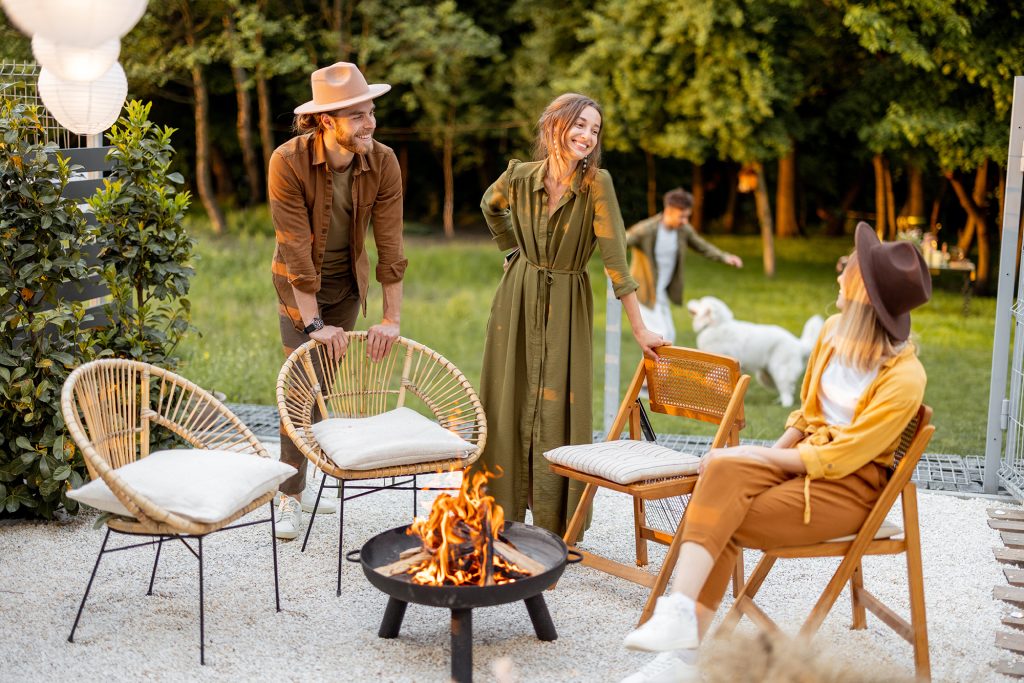 Your backyard has the potential to become a captivating oasis, a space where you can relax, entertain, and create lasting memories with family and friends. In this article, we will explore five engaging outdoor activities that can elevate your backyard experience. Additionally, we'll explore the significance of home insurance in Palm Harbor, emphasizing the value of local home insurance agents. We'll also provide insights on obtaining home insurance quotes in Florida for comprehensive coverage.
Outdoor Activities: Elevate Your Backyard Experience
To transform your backyard into a vibrant oasis, consider incorporating these engaging outdoor activities:
Family-Friendly Games and Sports: Set up an area for fun games like cornhole, badminton, or a mini soccer field. Engage in friendly competition and enjoy quality time with loved ones in the comfort of your own backyard.
Cozy Outdoor Lounge Area: Create a cozy seating arrangement with comfortable chairs, cushions, and a fire pit or outdoor heater. This inviting space will serve as a relaxation spot where you can unwind, read a book, or stargaze on warm summer nights.
Memorable Backyard Barbecues and Cookouts: Equip your backyard with a barbecue grill or outdoor kitchen. Host unforgettable gatherings filled with delicious food, laughter, and cherished moments shared with family and friends.
Tranquil Outdoor Yoga or Meditation Space: Designate a serene corner of your backyard for yoga, meditation, or mindfulness practices. Surround yourself with nature's beauty and create a peaceful retreat for self-care and rejuvenation.
Wonders of Gardening and Landscaping: Embrace the joys of gardening by cultivating vibrant flowers, aromatic herbs, or even your own vegetable garden. Engaging in gardening activities can enhance the aesthetics of your backyard while providing a rewarding and therapeutic experience.
Home Insurance in Palm Harbor: Protecting Your Oasis
While you immerse yourself in the pleasures of your backyard oasis, it's crucial to safeguard your investment and protect yourself from potential risks. This is where home insurance in Palm Harbor comes into play. Home insurance provides coverage for your property, personal belongings, and liability for accidents that may occur on your premises.
Home insurance protects you from various risks, including natural disasters, theft, vandalism, and personal liability claims. In the context of your backyard activities, it can provide coverage for injuries sustained by guests or property damage that may occur during gatherings or while participating in outdoor games. Having home insurance offers you peace of mind, knowing that you are financially protected in the event of unforeseen circumstances.
Local Agents: Personalized Home Insurance Coverage
When it comes to obtaining home insurance in Palm Harbor, working with a local home insurance agent offers numerous advantages. Local agents understand the unique risks and insurance requirements specific to the area. They have in-depth knowledge of the local market and can provide personalized coverage options tailored to your needs.
Local home insurance agents in Palm Harbor offer exceptional expertise and guidance throughout the insurance process. They can help you understand the intricacies of home insurance policies, assess your coverage needs accurately, and provide recommendations that ensure your backyard oasis is adequately protected.
Florida Home Insurance Quotes: Finding the Right Protection
When considering home insurance for your Palm Harbor residence, obtaining multiple home insurance quotes in Florida is a crucial step. Comparing quotes allows you to assess different coverage options, deductibles, and premiums to find the policy that best suits your needs.
During the quote comparison process, focus not only on the price but also on the coverage provided. Look for comprehensive coverage that adequately protects your home, belongings, and liability exposures related to your outdoor activities. Independent insurance agents can assist you in obtaining multiple home insurance quotes, as they have access to a network of insurance providers and can help you find the right protection at the best possible price.
Creating Memories: Enjoying Activities in Your Backyard
As you embrace the engaging outdoor activities in your backyard oasis, it's essential to prioritize safety and protect the well-being of yourself and your guests. While accidents can happen, having comprehensive home insurance coverage gives you the peace of mind to fully enjoy your outdoor experiences without unnecessary worries.
By investing in home insurance, you are not only protecting your physical property but also safeguarding the memories you create with loved ones. Whether it's hosting a barbecue, playing games, or simply relaxing in your outdoor lounge area, having the right coverage ensures that unforeseen incidents won't disrupt your joyful moments.
Don't Forget About Insurance
While enjoying your backyard oasis and engaging in outdoor activities, don't forget about the importance of home insurance. Your backyard is an extension of your home, and it deserves the same level of protection. Take a moment to review your current policy or explore new options to ensure that your home and its outdoor spaces are adequately covered.
At Reliant Insurance Services, we are here to provide expert advice and assistance. Our dedicated team is ready to walk you through the process, answer your questions, and help you find the right home insurance policy. Safeguard your oasis and enjoy peace of mind with our personalized insurance solutions.